Dati di traffico stradale
Pesi netti considerati: furgoni: 0,7 ton. - Autotreni: 12,6 ton - Autoarticolati: 12,6 ton. Fonte: Quadrante Servizi Srl
Nuova certificazione Controllo Accessi
L'Interporto Quadrante Europa di Verona si impegna quotidianamente per il controllo degli accessi all'intera infrastruttura, degli edifici e del personale: sistemi e procedure di monitoraggio all'avanguardia e costantemente aggiornati permettono alle aziende che operano al suo interno di gestire la propria attività con alti standard di efficienza e sicurezza interna.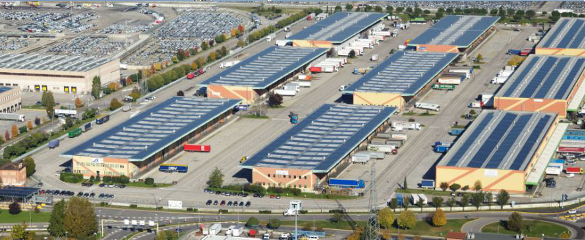 Il Centro Spedizionieri si estende su una superficie interamente recintata, con 1 varco di accesso equipaggiato con tecnologia TELEPASS, un sistema automatico di videosorveglianza e di autorizzazione all'accesso, che controlla i veicoli in entrata e in uscita. Il sistema permette inoltre alle aziende di controllare e autorizzare i propri veicoli in entrata e in uscita.
Il varco di accesso, caratterizzato da 6 corsie (3 in ingresso/ 3 in uscita) con 20 telecamere, permette di migliorare la mobilità in ingresso e in uscita e l'accessibilità a tutti i magazzini e ai servizi dell'infrastruttura.
Un sistema di sorveglianza operativo h24 e un circuito di oltre 100 telecamere collocate in punti strategici dell'interporto accrescono ulteriormente il livello di sicurezza interna.
Un varco apposito per l'ingresso dei mezzi di soccorso completa poi la sicurezza dei dipendenti che quotidianamente lavorano presso le aziende dell'Interporto.
L'Interporto Quadrante Europa di Verona gestisce i propri processi in conformità allo Standard internazionale IEC 60839-11-1:2013 (Alarm and electronic security systems).
Interporto Quadrante Europa
Located at the crossroads of the Brenner (north-south direction) and the Serenissima motorways (west-east direction), as well as the corresponding railway lines, the Interporto Quadrante Europa extends over an area of 2,500,000 m² with a 4.2 million square metre extension in the pipeline.
This infrastructure system, managed and devised by Consorzio ZAI with a detailed plan approved by the Veneto Region authorities, is directly linked to Verona-Villafranca airport.